The Autism Mom's Survival Guide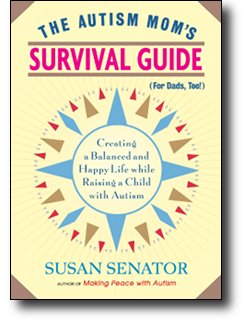 Given the daily challenges of raising a child with autism, it's easy for parents to lose themselves and for their overall quality of life to plummet.
The Autism Mom's Survival Guide contains many parents' stories and ideas (including my own) on handling feelings of despair and hopelessness, caring for your marriage, enjoying your life as an adult — not just as a parent — having fun with your kids, finding a good balance between accepting your child and seeking new treatments, dealing with the rest of the world's attitudes towards your child, looking toward your child's adulthood, letting go, and allowing yourself to find your own joy even in the midst of great struggle.
Buy it at Amazon or Barnes & Noble.
The Autism Mom's Survival Guide, paperback: ISBN 1590307534, published by Trumpeter Books, March 2010.