Dirt: a story about gardening, mothering, and other messy business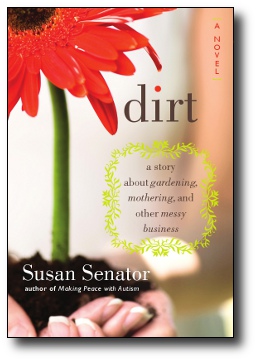 Emmy is a typical suburban mother—at least on the outside. On the inside she's a mess. She's trying to raise her three sons alone, and that is proving to be a discouraging struggle. Her oldest, Nick, is profoundly autistic and increasingly frustrated with the world around him. Henry, her normally dependable middle child seems to be drifting away from her into morose adolescence. And then there's Dan, her eight-year-old who seems perpetually angry at everyone in his family.
Emmy's estranged husband Eric is no help at all, just a weekend dad who pops in when he's not wanted and takes the boys out for fast food or visits to the Science Museum. Emmy's haven from it all is her garden, and her dream is to start a landscape design business. But lack of time and energy keep her stuck selling real estate; it is all Emmy can do just to keep her life under control.
When a flirtation, a brush with the law and a near tragedy occur within a few weeks of each other, Emmy is certain that she has failed adulthood completely. Dirt presents a portrait of complicated relationships and the ways that people find refuge—and each other.
Buy it at Amazon in paperback or for your Kindle or at Barnes & Noble for your Nook.