Making Peace with Autism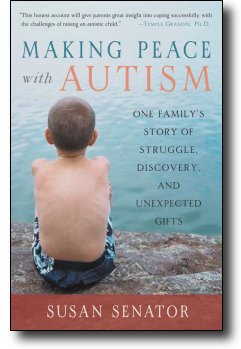 Making Peace with Autism will appeal to any family faced with great challenges, as well as give useful strategies and resources that will help families, educators, therapists, and caregivers understand how to get through the daily living issues that autism brings.
Buy it at Amazon or Barnes & Noble.
Now available in paperback!
Written as a personal memoir, the book also contains summaries of key strategies of issues like bringing a child to a holiday gathering successfully; navigating school issues; taking family vacations; learning to connect and accept; what to do for siblings; how to get through the most terrible phases autism can bring; and even how to allow each of us have his own important, unique place in the family.
With a moving and compelling narrative, and summaries of key strategies, the book describes how to get through the early days of grieving, how to keep a marriage strong, what to do for siblings, how to deal with the school system, and how to have fun as a family with autism.

Over the years my husband and I struggled to understand our son and we have learned a lot about what works and what does not, and how to adapt approaches so that they fit into a busy homelife. Above all, we have learned how to be a family, with two other, non-autistic boys as well. Nat, now 25, is a viable part of our family though by no means is he easy to know or understand. Nor is he cured of autism. Yet he is a wonderful addition to the family and we have goals and dreams for him as we do for our other two sons. We have a connection to Nat that we work to nurture, that is one part hope and faith, and one part pure effort and love.
I hope that this book can impart some of the wisdom I have learned along the way, and will help empower other parents not to shrink from autism's challenge, but to meet it head on and forge a family life nevertheless, a family life that incorporates, but is not ruled by, autism.
Hardcover: ISBN 1590302443, published by Trumpeter Books, September 2005.
Paperback: ISBN 1590303822, published by Trumpeter Books, December 2006.